8 truley was my lucky number. I got to meet someone face to face in which I thought I would never get the opportunity to do so. She was Hillary Clinton.
Me and my friend Donna arrived at the high school around 10:30am perfect timeing before doors open at 11:00am. I had the rush in a lifetime. I had my "gift" ready in my hand, making sure it didn't leave my side just as my ticket to get in.
We then walk up to the entrance of the school, just outside were a couple of vendors. I was surprised to see a couple Hillary for President hats. Though the majority of the stuff was pro-obama there was some anti Hillary buttons but I didn't take notice until after the event.
I walked inside the school quad and it was this surreal feeling. The line seemed to be 99% Obama people. We stood there for a couple of minutes and then I started getting really irritaded with people talking about how much they think Obama is in the right position.
As I took more notice of the people I saw some with Hillary T-shirts and from looking around I later found out there was some Hillary people...but covered in Obama stuff.
It was about 11:45 I think until a little volunteer from the Obama camp came and wanted to interview me. I was like ok sure ask me anything. She basically wanted what school I went to and if I thought rally's at school was a good idea. The last few questions were things like if I would support Obama...I gave her my reason why I wouldn't. I told her if theres any chance in him winning then he would need to stick with a position for longer than a week. She then said thank you and walked of.
Couple minutes later a camera crew came. It was Channel 8 news.
Everyone refused to talk to him until he got to me.
He was more forward with his questions. Asking why would I support mccain or someone else if Hillary tells me to vote Obama. I told him Obama has no substance, that he needs to prove himself and stick with one position and then fight for mccain. He then said something "so it doesn't matter what Hillary says" I said yes it does and I came to listen to her but in the end the voters choose for themselves. He asked what I thought Hillary would say at the event, I told him that she'll probably talk about voteing democratic and mentioning her 18 million voters, thats when I pulled out my "gift" that I planned to give to Hillary, at that point in time the camera zoomed in to get a good shot of it and everyone around me was wanting to get a good see of the photo (this was my favorite part of the interview, god knows I was a nervous wreck though) He went on asking more things. I told him about his flip flop on FISA and I left him with saying that if theres a chance of OBama wanting our votes then he needs to stick with a position and prove to us that he's done something to bring the change forward and then we'll see what happens but in the meantime I came to see Hillary. The reporter said thank you and got shots of people down the line.
People around me were saying I did a pretty good job and they were impressed. I still think I came out looking all nervous haha but atleast I spoke out and got a chance to highlight Hillary's 18 million voters.
Doors open at the event at 11:00am they gave out Obama sign up cards to volunteer, I took one cause I was curious what it said.
Since we got there early I got to see the stagecraft, they placed mostly older white woman where they would be seen. I saw a spot open at the ropelines and quickly asked the lady if I could go there, she actually let me since they wanted people to just go to the bleachers.
so the suspence was building...30 minutes or so later Hillary finally arrived! The crowd was overfilled with joy!
She gave her speech, mentioning Bill and democrats (it wasn't as bad as I thought it would be) it soon ended and I took notice of the people around me. When she said "vote for obama" some, just like me, didn't clap at all. But when she mentioned Bill or her own Primary run we screamed so I easily pointed out the Hillary people.
Her speech ended and she gave time to the people and signed their stuff.
She got closer to me and my heart was pounding...I got that tipping over the edge roller-coaster feeling as she got near me. She signed a sign next to me and quickly I said "Hillary! I made this for you" I handed it personally to her (something that wasn't allowed) and she took it.
Her eyes were shining grabbing the 4x6 photo card I printed at home and reading the words on it. She took some time to see it all and she looked really amazed by it saying "Oh this is nice!, This Is really nice!, everyone look at this isn't this nice?" she said that after showing it to her guards around her and she just didn't take her eyes off it smileing with joy and then asked me "do you have a website" I said "yes!" (I later gave it to one of her staff) so then I quickly said can I have a picture with you and she said "ofcoarse!" and handed it to one of her people. I'm telling you it was such a rush words can't describe what that felt like.
As I walked out I was just over filled with joy. Mission accomplished is all I could think about. I paid no attention to the person yelling "the bitch is back!, get your buttons here!" I said oh its not worth the fight as I was on cloud nine just thinking, I came here with a goal. To have Hillary look at this picture I spent hours on and remind her of her 18 Million voters. I felt by having her look at this it would be such a great memory to have and remind her of what she has accomplished.
I'm telling you when I handed it to her and saw her eyes just open up with joy that meant everything to me and it made me feel great!
I heard she told someone that they are taking it to a vote at the convention and I just like to think that my little "gift" might encourage her to move forward with that goal of having her put in nomination.
I will never forget that once in a lifetime feeling of having her accept the photo and have her eyes glow up right infront of me...saying how nice it was. I like to think this will give her courage and remind her that we're still here and we'll always will be.
This is the exact print I gave her.
Here she is taking her time to look at it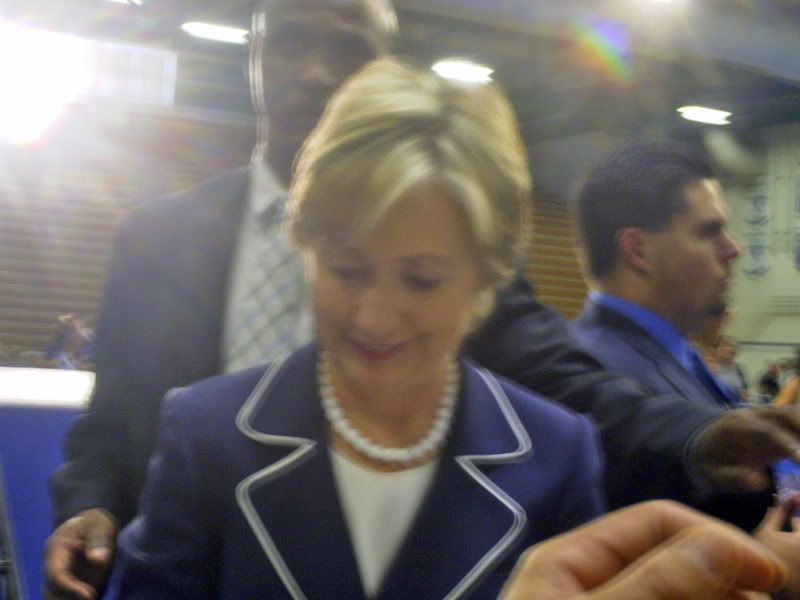 Greeting Everyone...What a great Person
My photo with Hillary Clinton!